February 13, 2009
Government of Canada and Government of Ontario Make Historic Infrastructure Investments in Huron-Bruce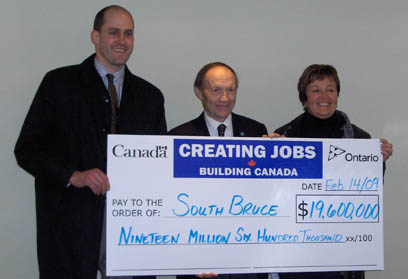 MP Ben Lobb and MPP Carol Mitchell present South Bruce Mayor Bill Goetz with a cheque for the Teeswater/Formosa Sanitary Sewers Collection and Treatment.

Residents of Huron-Bruce will benefit from joint federal, provincial and municipal funding to build roads, bridges and water systems, announced today by Ben Lobb, M.P.  and Carol Mitchell, M.P.P. This project is just one example of all levels of government committed to stimulating the Ontario economy by reducing red tape, creating jobs for Ontarians, and getting shovels in the ground sooner.

These projects will improve transportation efficiency, enhance local facilities and services and create local jobs, when the need for economic stimulus is greatest.

The governments of Canada and Ontario will each invest up to $17,680,300 in projects throughout the riding. The municipalities will contribute the balance of the total eligible project cost of up to $53,310,907.

"In these challenging times, the governments of Canada and Ontario are working together to create jobs and build stronger and brighter futures for Ontario Communities," said Ben Lobb, MP for Huron-Bruce. "These investments will help stimulate the economy and create jobs in Huron-Bruce."

"Strengthening the provinces infrastructure will allow the communities of Huron-Bruce to remain economically viable while improving the quality of life for residents through improvements to roads, bridges and water and waster-water systems" said Carol Mitchell, MPP for Huron-Bruce. "All levels of Government working together will help to put Huron-Bruce on a more solid footing that will better allow us to face the challenges that lie ahead while striving for a bright and prosperous future."

"This infrastructure funding from the Federal and Provincial governments is very much welcome news for both the upper and lower tier municipalities in Huron County" said Huron County Warden Ken Oke. "It is my hope that this funding will allow us to continue to move Huron County in the right direction while updating and prioritizing our infrastructure needs"

 "This is great news. The Infrastructure funding announced today will go a long way to improve roads, bridges and wastewater projects in Bruce County," said Bruce County Warden Bill Goetz. "In the municipality of South Bruce, we have submitted numerous applications for wastewater collection and treatment in the Teeswater Formosa area and been unsuccessful.  We are thrilled to finally be able to move forward with this project. This will make it a lot easier for the residents of South-Bruce."

These projects are part of 289 across the province that will soon break ground thanks to a federal-provincial-municipal investment of more than $1 Billion.  The governments of Canada and Ontario have taken steps to get shovels in the ground and to flow money faster for targeted infrastructure projects in Ontario Communities for the 2009 and 2010 construction seasons.

Because the federal and provincial governments understand that infrastructure investments will stimulate the economy, nearly 85 per cent of project applications were approved for funding.

Click here to download the background which has a list of funded projects.

LEARN MORE

Get more information about the Communities Component.

Learn how the Government of Canada is investing in Ontario infrastructure.

Learn how the Government of Ontario is helping to build and revitalize infrastructure across the province.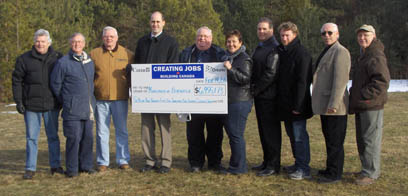 MP Ben Lobb and MPP Carol Mitchell present Bluewater Mayor Bill Dowson and council with a cheque for the Bayfield Water Distribution System.