September 10, 2009
Government of Canada supports small businesses in Southern Ontario through Canada's Economic Action Plan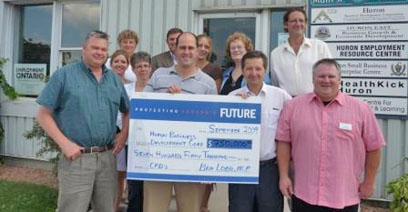 SEAFORTH, ONTARIO — Ben Lobb, Member of Parliament for Huron—Bruce, on behalf of the Honourable Gary Goodyear, Minister of State (Federal Economic Development Agency for Southern Ontario - FedDev Ontario), today announced a Government of Canada investment in local Community Futures Development Corporations (CFDCs) to support small and medium-sized enterprises (SMEs) — key drivers of economic activity in Southern Ontario.

Southern Ontario's 37 CFDCs will receive $30 million from the Community Adjustment Fund (CAF) in 2009–2010. This funding is part of the $350 million that the CAF will receive over two years for projects in Ontario. The new measures will increase access to capital and business support for rural SMEs by enhancing products and services offered by Ontario CFDCs.The Huron Business Development Corporation today will receive $750,000.

"This investment will help rural communities strengthen and diversify their local economies," said Minister of State Goodyear. "It will also give SMEs in Southern Ontario opportunities to grow and create new jobs."

"Our local community development corporation`s have a tremendous track record developing the local economy.  I am pleased that Industry Canada through Fed Dev Ontario is supporting local communities and delivering results for Canadians" said MP Lobb.

 "As Huron County businesses come out of the recession, we will be ready with investment capital thanks to this announcement" said Rick Hundey, President of the HBDC Board of Directors.

Recently, the Government of Canada proposed a five-point stimulus plan for CFDCs in Ontario to improve access to capital for rural SMEs. The points focus on:

Increased capitalization for additional loans;
Increased loan cap from $150 000 to $250 000 per loan;
Increased operating dollars (up to $100 000 per CFDC) to allow CFDCs to perform outreach and get more loans out, more quickly;
Enhanced partnerships with the Business Development Bank of Canada and other commercial lenders; and
Heightened awareness of CFDCs and the services they provide.

CFDCs are community-based, not-for-profit organizations funded through the Community Futures Program. They are run by boards of local volunteers and are staffed by professionals who encourage entrepreneurship and the pursuit of economic opportunities. CFDCs offer a variety of business and community economic development services, including business planning and guidance, access to capital, and strategic community planning.

To find out more, visit the Ontario CFDCs website.